Breast Reconstruction Flap
How does the breast reconstruction flap method work and what are the alternatives?
The breast reconstruction flap method is a form of breast reconstruction surgery that involves taking a flap of skin from a surrounding area (called attached flap surgery) and folding it into the breast area. This occurs after mastectomy to reconstruct the shape of a breast. The alternative to this is another form of flap surgery, but one that involves a skin graft – this is called 'free flap surgery', wherein the skin can come from anywhere on the body – usually a more concealed part such as the inner thigh or buttocks. An attached flap usually comes from the back, abdomen, or belly area.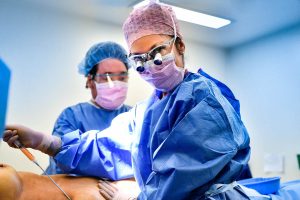 Medical tattooing is an alternative to breast reconstruction flap
Some people seeking breast construction flap surgery in Melbourne are not fussed with reconstructing a full nipple and instead will opt for medical tattooing to reinstate the appearance of a breast. Obviously this has a different outcome in practice to a Melbourne breast construction flap surgery, but this procedure is highly individualised and therefore some patients will have different desires to others.
Dr Nicole Yap specialises in creating neat incisions and sometimes single incision surgeries, that can allow for the breast flap surgery, without and not having to sacrifice the supply of blood to the surrounding tissue which can damage the nipple.
If you are interested to know more about breast reconstruction flap in Melbourne, contact Dr Nicole Yap now.