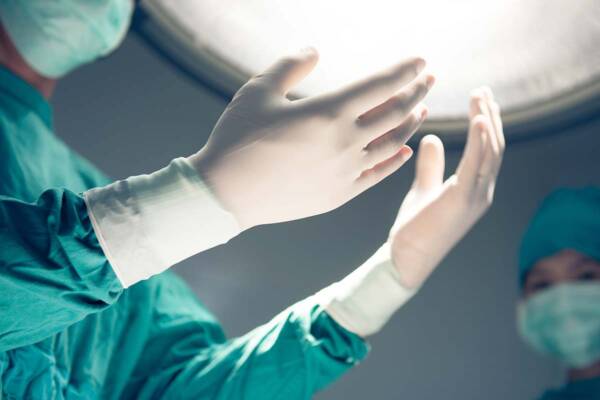 A leading Melbourne surgeon says Victoria's ban on elective surgeries is "unfair", "harmful" and compromising the outcomes for patients.
Victorian chairman of the Australian Orthopaedic Association, Adrian Trivett, has added his voice to growing calls from doctors for Victoria's ban on elective surgeries to be ended urgently.
Category 2 and 3 surgeries have been on hold at Melbourne and major regional Victorian hospitals since early January, when a Code Brown was declared to help the health system cope with rising COVID-19 cases.
While New South Wales — which yesterday had 2749 COVID-19 cases in hospital — plans to restart 75 per cent of non-urgent elective surgery requiring an overnight stay from next week, Victoria — which yesterday had 851 people in hospital with COVID-19 — does not yet have a resumption plan.
Dr Trivett says he hasn't stepped foot in an operating theatre since mid-December because the surgeries he does aren't considered essential.
He says the ban on elective surgeries is "such an unsophisticated approach".
"There's children with spine deformities that aren't being treated. These operations are getting more complicated, risky, and using more resources when we finally get to do them," he told Neil Mitchell.
"It's unfair, it's harmful to patients, and outcomes of surgery are being compromised because of this blunt unnuanced approach to the banning of all elective surgery."
Dr Trivett is calling for individual hospitals to be permitted to manage the use of their own staff, beds and operating rooms.
"There's 29,000 acute hospital beds in Victoria. Less than two per cent of them are being used for the COVID response," he said.
"There's massive capacity in the system. Hospitals around the state have the lights out in operating rooms, nurses underutilised, empty hospital beds."
The Royal Australasian College of Surgeons (RACS) and the Australian Medical Association are also calling for the surgery suspension to be lifted.
"Certainly it would be a very smart move to resume elective surgery next week. For example, day surgery and 75 per cent of other operations such as Category 2 and 3," Royal Australian College of Surgeons president, Dr Sally Langley, told Ross and Russel.
"Over the following week or two to full 100 per cent of all types of surgery in all hospitals."
This article was republished from 3AW. Read the original article here