Man Boob Reduction
Five things to consider before booking in for a man boob reduction.
Man boob or male breast reduction surgery can be a very effective way to reduce the appearance of enlarged breast tissue in men, but what are the implications of having such surgery and who will it best serve?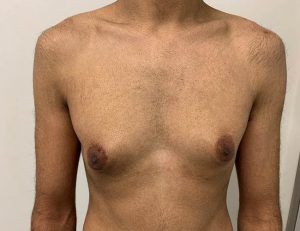 Man Boob Reduction Melbourne
Read this list of five things to consider before booking in for a man boob reduction.
The reduction might not be permanent if you have underlying health issues. Before deciding to have a man boob reduction in Melbourne you might want to consider some lifestyle changes. Men who are frequent drinkers, marijuana or steroid users are not going to make good candidates, because these things can impact male breast tissue growth.
Seeking adequate pre-screening is important as enlarged male breast tissue can often be an indicator of underlying health issues such as cancer, thyroid condition, or concerns with kidney and liver. Adequate pre-screening will allow you to rule out the presence of any underlying conditions that might be the cause of your man boobs.
Diet and exercise are an effective, non-invasive way to manage man boobs and will be integral to the maintenance of the surgery results. Weight gain can cause excess tissue to develop so adapting to a new approach for diet and exercise will improve outcomes of this surgery.
As with any surgery, there will be down time. Depending on the severity of your condition, recovery time could range from one week and up to four weeks. Man boob reduction can mean some men will only need liposuction to remove a small amount of fatty tissue from the breast area, but in other cases where the intervention is more severe, you may need to prepare yourself to be off work for a month.
Make sure you consider that your body could be going through a developmental stage. Senior men or boys going through puberty, might want to consider the changes their bodies are going through before opting for man boob removal surgery. Though the surgery is relatively low risk, in some instances, during periods of hormonal change, the outcomes of surgery might be undone.